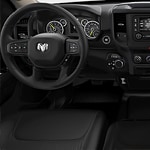 Ram offers a light-duty pickup truck that will accommodate the needs of many drivers. The Ram 1500 is packed with safety and security features to keep you and yours safer on the roads around Abingdon, VA.
There are a lot of distractions in the world. Sometimes there are even distractions when driving, which is why Lane Departure Warning-Plus is a valuable feature in the Ram 1500. If you start to exit your lane without intending to do so, you'll receive an audible alert.
Getting too close to another vehicle while driving is a serious issue that's mitigated by Adaptive Cruise Control. This is a safety feature in the Ram 1500 that will make any necessary adjustments to your speed to prevent a collision with the vehicle ahead.