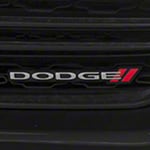 Do you ever deal with extreme heat or cold? At Blue Ridge Chrysler Dodge Jeep Ram, we know the feeling — that's why we're so enthusiastic about the Dodge Charger, a popular mid-size sedan with some serious all-weather comfort features.
When you're in the height of summer or the depths of winter, the weather inevitably affects the interior of your car. That's why the Charger is available with front seats that feature integrated heating and ventilation. Activate the heat, and you'll be instantly cradled in warmth. Choose ventilation, and you'll feel a cool breeze that keeps sweat at bay.
If you often carry a passenger, consider upgrading to the dual-zone climate control system. Using a unique system of vents, this feature allows you and the person in the passenger seat to choose different temperatures and fan settings for personalized comfort. Find out how effective it is by test-driving the Dodge Charger with us in Abingdon, VA.